Katie Joubert, AS-NS
Network Administrator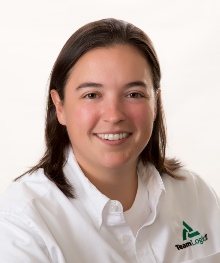 Katie is an adaptable and patient Network Administrator with expertise in supporting and relating to her TeamLogicIT customers in easy‐to‐understand terminology. She quickly and confidently eases customer complaints with her ability to listen carefully to any problem and then execute a well thought‐out plan of action. Organizational skills and a true passion for providing the best customer service possible are Katie's key to success.
PRIOR EXPERIENCE: Katie was an Information Technology Systems Administrator for an international oilfield service company (7 years).
OUTSIDE INTERESTS: Katie enjoys fishing, all sporting events and quality time with family and friends.
EDUCATION: Katie holds an Associate's degree in Information Communication Technology‐Network Specialist from Louisiana Technical College. She is also trained in Microsoft Operating Systems including: SCCM 2007, Orchestrator 2012, Operations Manager 2012, Hyper‐V and VMWare.