Brian Leonard, AAS
Infrastructure Specialist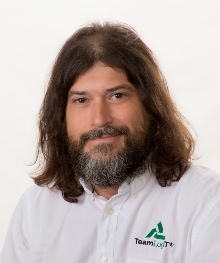 Brian is an Information Technology Specialist II with the professionalism, knowledge and positive humor that immediately engages each of his customers. His eclectic background arms him with the well‐rounded experience to handle most every situation with enthusiasm and great customer service. He's a dedicated team player with lots of stamina. The ability to maneuver and negotiate conflict with ease is Brian's key to success.
PRIOR EXPERIENCE: Brian was a Self‐Contracted Cabling Infrastructure Specialist (4 years), a Fire & Burglar Alarm Technician at a local video and telecommunication company (5 years), a City of Lafayette Fire Department Firefighter (1 year), Welder at a fabrication company (4 years) and Small Engine Mechanic at a local service company (2 years). It's safe to say that he is definitely the guy you want on your side in an emergency.
COMMUNITY OUTREACH: Brian providing hands‐on staff care at Gulf Coast Teaching Family Services, a housing facility for adult males with developmental disabilities.
EDUCATION: Brian holds an Associate of Applied Sciences in Industrial Technology from Louisiana Technical College as well as a Residential and Commercial Wiring Methods designation. He also holds the following certificates: CPR, Lifeguard, and Prevention & Management of Aggressive Behavior.